This article was written for my International Reporting class.
While the United States is hurled through a contentious and politically charged presidential election, a lot of spotlight has been put on immigrants rights and policies. While Americans may worry about numbers of immigrants entering the country, migrants only make up 15% of the population in the U.S. as of 2015. The United Arab Emirates, the seventh-richest country in the world, is home to an 88% immigrant population.
While immigrants coming to America have hopes and a real shot of making it big, fulfilling the American Dream, workers in the UAE are often subjected to abuses that equate forced labor, or modern-day slavery, according to the Human Rights Watch (HRW).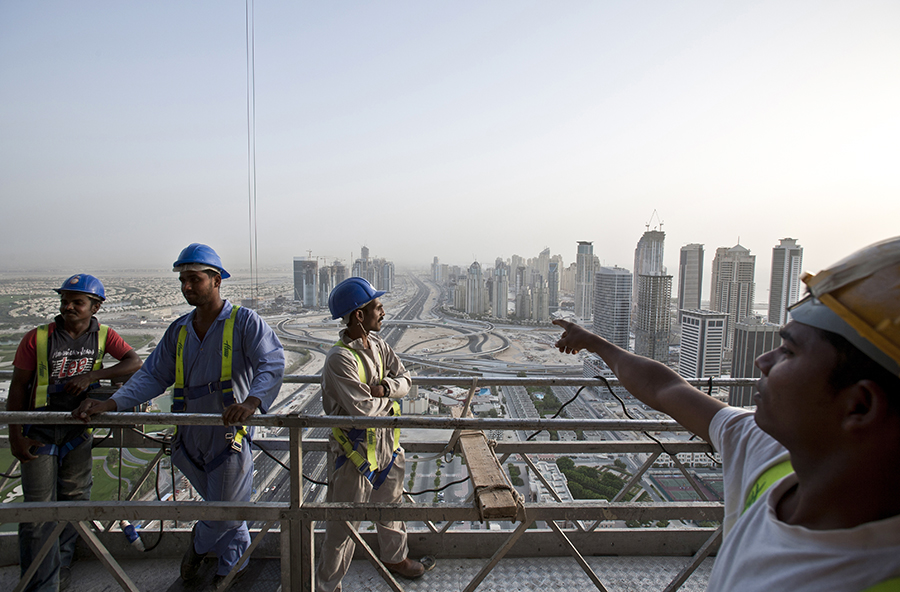 According to the US Department of State's Country Reports on Human Rights Practices for 2015 for the United Arab Emirates, "violations of wage, overtime, and other labor regulations were common in sectors employing migrant workers, such as construction." (
"The weakness in protections for domestic and agricultural workers left them vulnerable to excessive work hours, nonpayment… and otherwise abusive or exploitative work conditions," the report stated.
Laith Saud, a visiting professor who teaches a class on religion and politics in the Middle East in DePaul's College of Liberal Arts and Social Sciences, said that in terms of institutions, "those of the UAE permit what amounts to modern day slavery."
The key phrase being "modern day," because the "mechanisms activated to create such slavery are inherently modern," he said. For example, when a migrant worker arrives, "their passports are taken away until they have 're-paid' their employers back visa and travel lodging fees." Such a payment, because of low wages, could take years, "literally forcing workers to remain, against their will."
(Berahmann visited the housing settlement of construction workers and said, "'One of the Chinese workers stopped me, took me to his room and showed me a sign he had written on some wood. It read: 'Dear Boss I am working in your company already 1 year, my contract was expired but I cannot get my salary all (4 month less). I must go China soon, please pay for my money.'")
Since there is no legal minimum wage in the UAE, the country's more than five million low-paid workers are paid as little as 500 dirhams per month, or $136 USD.
In March of 2015, construction workers staged a public protest outside of the Dubai Mall to gain higher wages. According to Reuters, a construction worker named Mohammed, a Pakistani employee of Arabian Construction Co, said that a worker's basic salary was less than 500 dirhams per month, or $136 USD.
In 2010, the HRW reported about the egregious human rights violations for construction workers on Saadiyat Island, a project that will hold branches of the Louvre and Guggenheim museums as well as a branch of New York University, off the coast of Abu Dhabi.
The HRW published a follow-up 2015 report about the UAE said that even five years after the original report, "some employers continue to withhold wages and benefits from workers, failed to reimburse recruiting fees, confiscated worker passports, and housed workers in substandard accommodation."
On top of the issues of pay and freedom, construction workers are also forced to work outside in extremely high temperatures. According to The National newspaper of Abu Dhabi, "dehydration and heat stroke is a constant danger for the thousands of labourers [sic] across the country who work on projects in temperatures that top 40°C" or 104° Farenheit.
UAE labor laws do have a forced lunch-break, which requires that "businesses must not allow workers to operate outdoors between 12pm and 3.30pm during the hottest three months of the year."
Domestic workers are also especially vulnerable to abuse, "since they do not enjoy even the minimal protection afforded by UAE labor law," writes the HRW, since they are excluded from the Ministry of Labor regulations that apply to other migrant labor sectors.
In order to work as a domestic helper in the UAE, you have to be sponsored by someone within the country. They pay for a visa, sponsorship, and if required, transportation from the home country of the worker.
Often times, passports and wages are withheld for domestic employees, and since they are tied to their sponsor through this system, it "severely restricts workers' ability to change employees."
Since domestic workers are predominantly female, they experience a wider range of abuses. According to the HRW, some workers accused their employers of physically abusing them, confining them to the homes where they worked, forcing them to work excessively long hours without a break, denied them adequate food or medical treatment.
"Some workers continued to be employed in circumstances that amount to forced labor, slavery, or trafficking," according to the HRW.
Beena Yusuf moved to the UAE from Texas with her husband who got a job with the UAE government. She sought out employment in Dubai and was lucky enough to find a job with the US Department of State in the Consulate. She described her three-year stay in the UAE as "grand," but unfortunately the lavish and exciting lifestyle that she lived was not afforded to all immigrants or people of different ethnicities.
"Immigrant workers in the UAE were not treated as lavishly as… let's say the Americans or Europeans, with the long hours in the desert heat and low compensation," said Yusuf.
Sources:
http://www.reuters.com/article/emirates-workers-protest-idUSL5N0WC1JD20150310
http://www.dubaifaqs.com/salaries-dubai.php
https://www.hrw.org/world-report/2015/country-chapters/united-arab-emirates#b94615
https://www.hrw.org/report/2015/02/10/migrant-workers-rights-saadiyat-island-united-arab- emirates/2015-progress-report
http://www.thenational.ae/uae/government/20150915/labourers-midday-break-hailed-for-fewer- heat-exhaustion-cases